非スタンピング特殊加速器ZDTP-50
1.製品構成: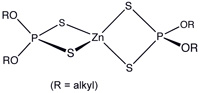 約50重量%ジアルキルジチオリン酸亜鉛(ZDTP)
約50重量%のポリマーバインダーおよび分散剤
2.アプリケーション:
EPDMやその他のジエン系ゴムを含まない急速加硫用非汚染性特殊促進剤
N-ニトロソアミンを形成することができる第二級アミン。
フィルム、タイヤバッファー層、ラバーフェンダー、シールなどのエンジニアリング成形製品および押出製品への応用
3.仕様:
PRODUCT
Active
Content (%)
Color
Filtration
(microns)
Binder
Mooney ML (1+4)
50℃
Density (g/cm3)
Actmix®
ZDTP-50GE F500
50
White-
translucent
500
EPDM/EVM
50
1.25
*Other binders, such as NBR, SBR, AR, ECO also can be available for.
SAFETY&TOXICITY:
Please refer to related MSDS.
PACKAGING&STORAGE:
Net weight 25kg/PE bags lined carton; N.W. 600kg/pallet.
Non-wood pallet size: 1.1x1.1x1.0m.
Shelf-life: 1 year in its original packaging.
Stored in a dry and cool place.
製品グループ : ゴム加速器・化学物質 > 非ニトロソアミンゴムアクセラレーター